The Naughty Empire

Death Judo & The Conqueror

Alignment

Heel

Dynamic

Positive
The Naughty Empire
is one of the official Tag Teams that appear in
Rumble Roses XX
.
It was both formed by and is comprised of Black Belt Demon and Great Khan to compete with the other teams in the tournament for the new Tag Team Championship title.
They are a positively-oriented team (with both partners being Heels). The Naughty Empire is one of the more successful partnerships in the game, as The Black Belt Demon and Great Khan are close friends (with the two of them sharing a mutual positive dynamic.)
Team Dynamic
Edit
The Naughty Empire is an interesting team. While the combined stats of the team are not fully inclusive, The Naughty Empire is by no means lopsided. While neither player possesses signifigant strength or endurance to damage, their styles still complement each other quite well.
With both Black Belt Demon and Great Khan being young and smaller fighters with slender builds, the team must rely on a combination of speed and agility in the ring, with much of their offense based around reverse-grapples, humiliation-building, and submissions.
Team Overview
Edit
Double X Move
Edit
Tower Of Babel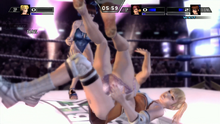 A special tag team throw that can be performed while facing a team's opponent's head when they are lying on their back. Only the team of the Black Belt Demon and Great Khan can execute this move. It begins with the Black Belt Demon and Great Khan standing to the left of their supine opponent. The Black Belt Demon helps her partner climb on top of her shoulders, grabbing each other's hands for support. Next, Great Khan jumps off of her partner's shoulders and delivers a Senton Bomb to the opponent, landing back first across their stomach. As she rolls off her opponent, the Black Belt Demon takes her turn and delivers a Standing Senton Bomb to her opponent. As their opponent lays on the canvas almost out of breath, Great Khan helps her partner back to her feet.
Entrance
Edit
Community content is available under
CC-BY-SA
unless otherwise noted.